I got the below from my dear friend A. in NYC today. A big hearty congratulations to her and all of her comrades.
WE WON!!!!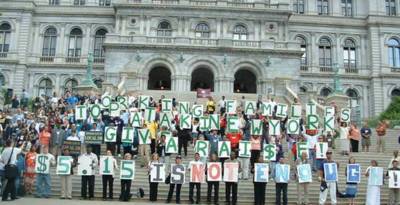 The State Senate voted today to override Governor Pataki's veto of the minimum wage legislation. The new law goes into effect on January 1, 2005.
Congratulations to the entire $5.15 Is Not Enough coalition! It was a long haul, but we made it!
"Today's overwhelming vote puts a bi-partisan exclamation point on the State Legislature's determination to bring a measure of economic equity to New York's lowest-paid workers. We thank Senator Bruno, Speaker Silver, and Senator Paterson for their steadfast commitment to ensuring that nearly one million New Yorkers will receive a long-overdue raise as the New Year begins," said Robert Master, co-chair of the Working Families Party.
Here is a chronology of the trail that led to today's victory:
1997: The federal government raised the national minimum wage from $4.75 to $5.15
1999-2003: Each year, the State Assembly passed a bill increasing the minimum wage. The State Senate did not act.
July 21, 2004: Both houses of the state legislature voted to increase the state minimum wage from $5.15 an hour to $7.15.
July 29, 2004: Gov. Pataki vetoed the legislation.
August 11, 2004: The Assembly voted to override the veto.
It has been a long haul that would not have been possible without enormous efforts from so many individuals and organizations, as well as legislative leaders of both parties who were willing to do the right thing.
We hope to continue working together for justice and opportunity.
-- The $5.15 Is Not Enough team
And here's the
New York Times
story on the minimum wage increase.
(An aside: spell check on Blogger suggests "patois" instead of Pataki, and "pansies" instead of Pataki's. Hee hee.)