In the course of my online wanderings last night, I came across the Libertarian Party
page
, The Top 25 Liberty Songs. Let me say, it's very funny. First of all, how can one not raise an eyebrow at any song list, compiled for whatever reason, that includes both "My Life" by Billy Joel and "The Plan" by NOFX.
Second, at least some factions of the party seem to be suffering from a severe irony deficiency as testified to by inclusion of, for example, "Capitalism" by Oingo Boingo with the explanation "We are the only party who unabashedly supports capitalism and this song speaks to that. . . ."
And then there's this:
Song: My Way
Artist: Frank Sinatra
Album: My Way (WEA / Warner, 1969)
This song reflects our Libertarian spirit. To me, it is about freedom of choice in all aspects of our lives. Sinatra mentions regrets, yet he dealt with the consequences of the decisions...he never sought to be bailed out by anyone else due to poor choices. Upon reflection, there were good times and bad times, but he is happy and proud to have done it his way. The lyrics (by Paul Anka) are a tribute to the spirit of unbowed individualism: "For what is a man, what has he got / If not himself, then he has naught / To say the things he truly feels / And not the words of one who kneels / The record shows, I took the blows / And did it my way." I can not think of a better song to express my Libertarian beliefs.
I of course, immediately thought of Sid Vicious' cover and the blurb which would result from that fine rendition: ". . . he is happy and proud to have done it his way. And then he stabs his girlfriend to death in a drug-induced haze and, shortly thereafter, overcome by grief at her death, joins her in the great beyond after a drug overdose."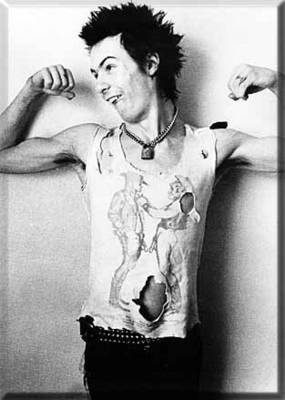 And that, ladies and gentlemen, pretty well captures why I am not a Libertarian.